SeabuckWonders recently launched their new line of skin care products, but there's something new in their supplement line as well – the packaging design.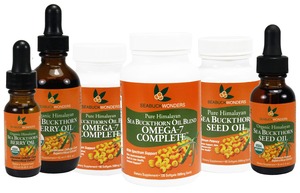 In an effort to create a more distinct look at the point of sale while also ensuring packaging design continuity within their entire product line, SeabuckWonders supplements now have a brand new look:
These bright orange labels with green and white accents provide SeabuckWonders with a more competitive differentiation as well as an aesthetic upgrade. The bright colors pop off the shelf, and the bold green banner provides a nice contrast for the white print, allowing shoppers to easily read the product information. Company officials believe that the vivid richness of the labels will be reflective of the quality of the product inside – 100% Organic Certified Sea Buckthorn Oils and Supplements with all the Omegas (3, 6, and 9) and containing the highest natural concentration of the rare Omega-7.
Of course, the most critical element of SeabuckWonders' products is still the 100% Organic Certified sea buckthorn berry and seed oil that ALL of their products are derived from, company officials add. Now they're just easier to quickly identify when walking down a retail aisle that may contain hundreds of supplement products and a variety of brands.
According to SeabuckWonders, more and more consumers are actively seeking out sea buckthorn berry products that offer healing power from the inside out. Dr. Oz nicknamed it the "miracle berry" because of the internal health-boosting benefits as well as the many topical benefits for skin, hair and nails.